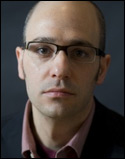 Marc Maurino
 Heard this week that Marc Maurino has been hired to write the script for "Wolves of Fairmount Park." Marc recently sold the script for his thriller, "Inside the Machine" to CBS films, and I think he's an excellent choice to adapt the novel. You can read an interview that Marc did with the screenwriting website
"Go Into The Story,"
where he mentions 'Wolves' at the end of the interview and references a couple of films (Frozen River and Winter's Bone) that I thought were amazing.
'Wolves' is being by developed by Robin Schorr and Dan Seligman of RCR Pictures, who are also in production on a movie called
"The Good Time Gang,"
with Jonah Hill and Mark Wahlberg. You can read about the deal with Marc in
Variety
and at
Collider.com
.
It's been a great time for friends and family, too. My daughter
Rachel
has a manuscript going out to publishers soon, and my buddy
Jon McGoran
recently got a great two-book contract with Tor/Forge with his new eco-thriller, Drift.